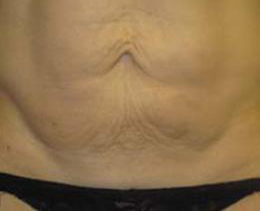 SkinTyte™ is a non-ablative approach to firmer skin. This treatment is based on the principle of selective thermolysis and utilizes pulsed light technology to deeply heat collagen while simultaneously cooling and protecting the entire treated surface. With no need for a topical anesthetic, the energy is delivered in rapid, gentle pulses to promote contraction and partial coagulation of the collagen, initiating the body's natural healing process, leading to increased tissue firming.
SkinTyte™ treatments are safe for all skin colours and can be performed on any area of the body where an improvement in your skin firmness is desired.
Popular areas include:
Face
Neck
Abdomen
Arms
Back of hands
Above the knees
What can I expect during the treatment?
You will wear protective eyewear during the procedure to protect your eyes from the laser. Usually, no topical anesthetic is needed. The laser delivers a sequence of rapid, gentle pulses that are repeated over the treatment area. Normally, a procedure will take about 20-30 minutes.
Treatment intervals:
Treatment differs from person to person but it is generally recommended that patients receive 2-5 treatments at intervals of every 2-4 weeks in order to achieve optimal results. This is based on your desired level of improvement, treatment areas and your existing skin condition.
When can I expect to see results?
The results of SkinTyte™ treatments can vary from person to person although most people notice increased firmness within the first month. Longer-lasting firmness gradually develops within the first four months of treatment as the collagen continues to rebuild and strengthen during the months following treatment.