The decision to undergo cosmetic enhancements can be a difficult one to make, and there are numerous elements involved in the decision-making process. It's important to feel comfortable at each step along the way to ensure effective results for the long-term.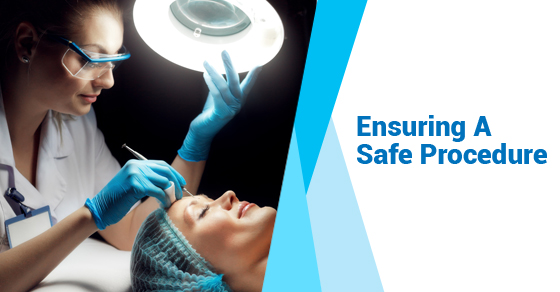 To help streamline the planning for a safe and effective cosmetic procedure, review the following five tips provided by our expert team.
1. Learn About Your Team First
A critical element of the aesthetic process is to get to know your team. Find out more about their treatment experience and the services in which they specialize.
As part of this process, you should also find out if the person administering the treatment themselves will be a part of your consultation process. Some medical staff have their team complete the initial meetings, but it can help you relax if you're able to meet your doctor before the day-of.
2. Ensure Effective Timing
Often the timing of the procedure plays an important role in its success. It's important to avoid making decisions on procedures when going through a difficult emotion event such as a breakup or after having lost loved one. By reviewing your emotional state and giving yourself time to take stock, you can then make sure you're making the decision on changing your appearance for the right reasons.
3. Choose a Trusted Facility within the Area
One of the leading trends is for wealthy individuals to undergo a cosmetic procedure to go overseas, as many places outside of North America offer injectables at a very low cost. But this can often lead to numerous challenges. For starters, patients may discover medical insurance doesn't cover errors made by overseas physicians. In addition, overseas hospitals may not have the requisite standard of safety to protect patients against infection.
When you shop for injectables for a cheap price, you're often getting work that accurately reflects the price. For additional safety, always choose a trusted local specialist that will do the job right instead of choosing a facility based solely on price.
4. Discuss Your Medical History with the Physician
A critical element of the treatment process is your current health. Cosmetic treatment must take into account any previous surgeries and medical conditions to ensure an individualized strategy for success. By discussing your medical history with your physician, you can move forward in the process based on a foundation of open communication.
5. Report any Problems Immediately Post-Procedure
Should you experience any persistent issues after the surgery has been completed, it's important to report the problem immediately to your specialist. Oftentimes, these problems are not serious when dealt with quickly and effectively. A proactive response can ensure a positive treatment result.
Cosmetic enhancements continue to be one of the safest forms of medical treatment, but safety should still be a leading consideration during the pre and post-treatment stages.
Consider the tips in this article to ensure your treatment is completed safely and to the highest medical standards.