Once you've made the decision to undergo plastic surgery and update your appearance utilizing one of the latest surgical techniques, it's important to understand the differences between the various options available.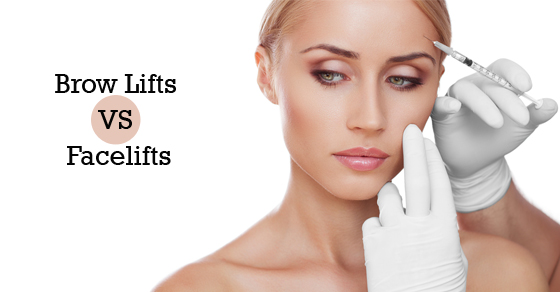 A common area of confusion for patients new to the cosmetic surgery field is the difference between brow lifts and facelifts. In an attempt to clear any confusion, we're reviewing the differences and highlight the advantages that each option provides.
Two Procedures for Two Unique Areas of the Face
The leading difference between a brow lift and a facelift is that that a brow liftis typically utilized to treat the area of the face from the upper eyelids to the hairline. A facelift, however, is designed to resolve aesthetic issues with the mid-to-lower portions of the face.
The Facelift Procedure
In order to complete a facelift, a surgeon will make incisions along the hairline beginning at each temple. Their incisions will extend downward from the back of the ear down to the lower scalp. These incisions allow surgeons to gain access to the muscles and tissues of the face, which can then be tightened as required.
The Brow Lift Procedure
A brow lift involves using minor incisions behind the hairline to lift the upper area of the tissues within the forehead. The treatment is often utilized in conjunction with other smaller procedures to achieve a revitalized appearance across the head and neck areas.
Treatment Advantages for the Facelift Procedure
There are a number of benefits derived from the facelift procedure for the average patient. These surgical advantages include:
Reduces the sagging of jowls
Minimizes the appearance of a double-chin
Smoothens wrinkles around the nose and mouth
Treatment Advantages for the Brow Lift Procedure
The brow lift has become an increasingly common treatment due to the many benefits it provides patients. These treatment benefits include the following:
Smoothens horizontal forehead wrinkles
Smoothens lines around the eyebrows
Minimizes eyelid drooping
Am I a Good Candidate for Brow Lift or Facelift Treatment?
The majority of patients who undergo brow lift or facelift treatments are between 40 and 60 years old. They're generally in good health and may have some form of winkling or skin sagging they'd like to address.
If you're considering either of these treatment options, it's important to speak with a specialist directly to discuss a customized treatment plan. Contact our offices today to learn more about brow lifts and facelifts, and how they can rejuvenate your appearance!